Lodging is available at two cabins (605.473.5312) 2 miles north of Lower Brule or at the Golden Buffalo Casino/Motel in Lower Brule (605.473.5577). Pictures and information for cabins below: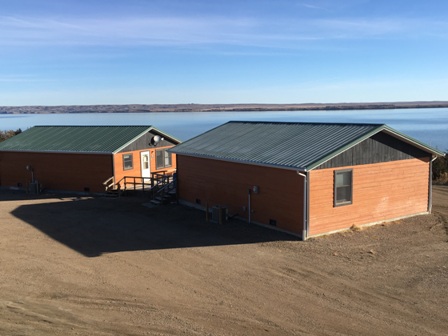 THE CABINS: Two 700 square ft. cabins (North View and South View) overlooking Missouri River 2 miles north of Lower Brule, SD; forced air heat and air conditioning; WiFi, satellite TV, adjoining decks with picnic tables. Available year-around.
COST: Each cabin rents for $150/day if using one bedroom; $250/day for both bedrooms; no taxes or other fees. Keys not returned will be charged an additional $25.
RESERVATIONS: Call the Lower Brule Wildlife Office at 605.473.5312 or karenjones@lowerbrule.net.
CHECK-IN AND CHECK OUT TIMES: Check in before 4 P.M. if possible; check out by 11 A.M. (other times may be arranged).
AFTER HOURS NEEDS: Call Ben at 605.730.1059 or 605.473.5863.
NOT INCLUDED: No phone, shampoo, soap or other personal items.
GUEST EXPECTATIONS: Please wash, dry and put away dishes, wipe off table and counters, and clean up any spills. Please clean up after your dogs, spray down kennels and game cleaning table with provided hose when finished. No dogs allowed inside cabins.
OTHER: Cabins will be cleaned and bedding washed after each group's stay.

The Living Room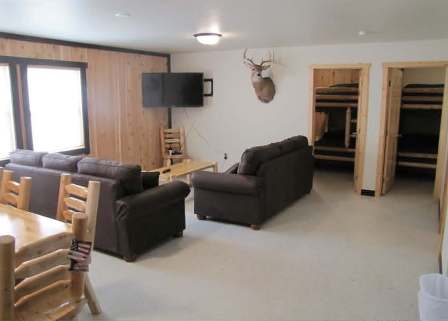 THE LIVING ROOM: Two comfortable couches (one with queen sleeper), coffee table and 40 inch LED TV with DISH Network.

The Bedrooms



THE BEDROOMS: Each cabin has two bedrooms; each with 1 queen bed and 1 full-over-full bunk bed. Bedding provided.



Dining Room, Kitchen & Bath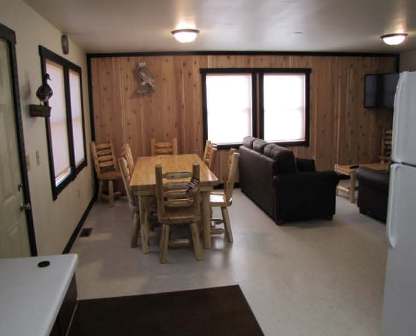 THE KITCHEN: Fully furnished kitchen with stove, refrigerator, microwave, slow cooker, coffee pot, pots/pans, utensils.
THE DINING ROOM: Rustic solid pine table and chairs will seat 10.
THE BATHROOM: Shower, toilet and sink. All towels provided.
Kennel Runs & Fish and Game Cleaning
KENNELS: Four dog runs with dog houses.
GAME and FISH CLEANING: Game and Fish cleaning table with shelter, hydrant/hose and water.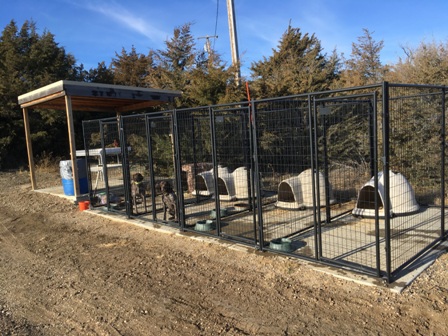 LOCAL INFORMATION: Golden Buffalo Casino Dining and Gaming-605.473.5577. Police-605.473.5444. Fire-605.473.0405. Ambulance-605.473.5284. Post Office-605.473.5495. C-Stores: KWOTP-605.473.5005/5007. Take-out food: K's Oriental 605-473-1044 Sioux Nation Ag Vet Clinic (Chamberlain) 605.234-6562